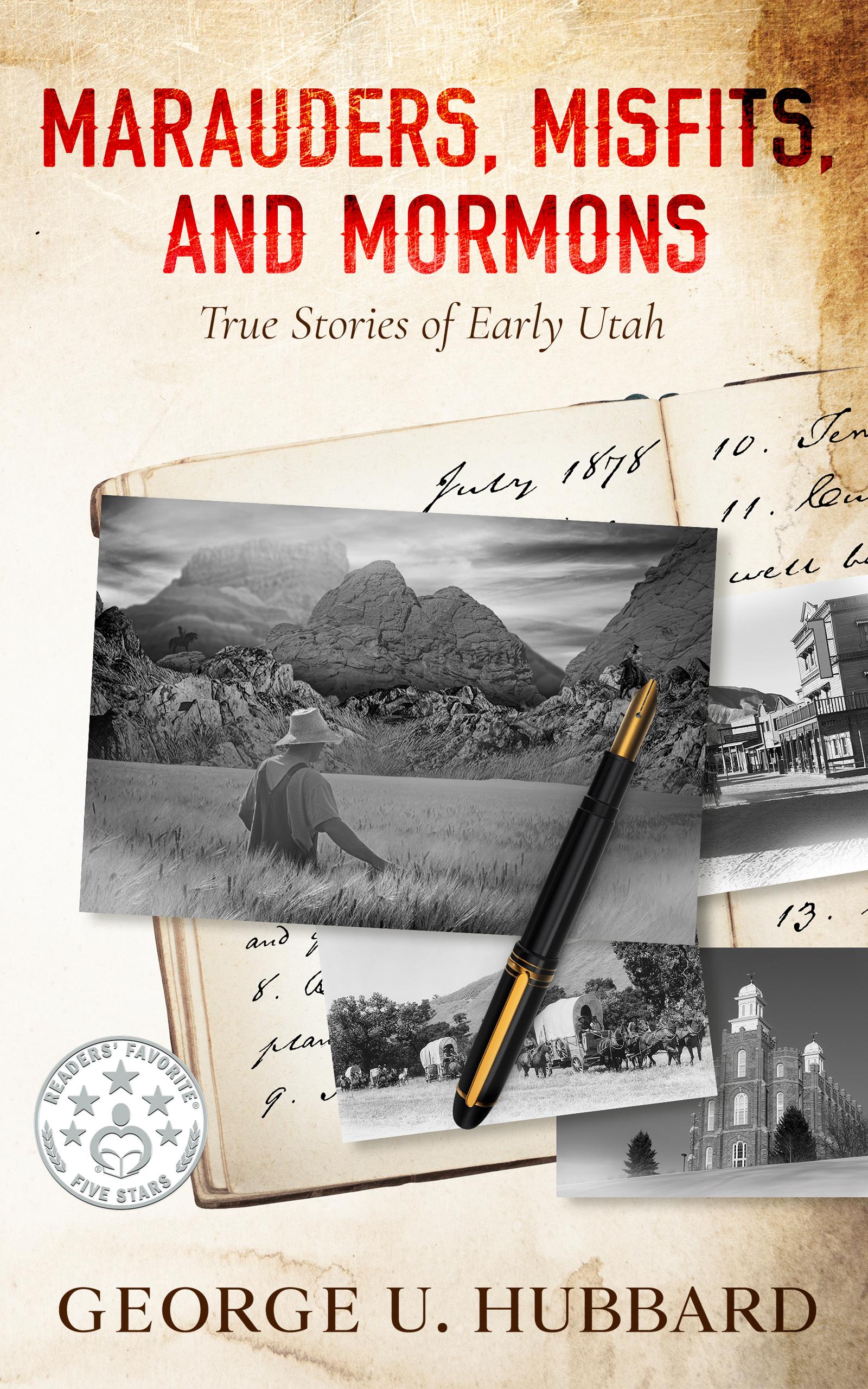 For Immediate Release
Marauders, Misfits and Mormons
True Stories of Early Utah
By George U. Hubbard
Marauders, Misfits and Mormons: True Stories of Early Utah is an anthology of vignettes featuring familiar and unfamiliar characters, animals, and railroads wrapped with historical accuracy. Each brief encounter is strengthened with historic names, places and consequences.
Abraham Lincoln gave legal advice to Saints in Illinois. Sam Houston, a U.S. Senator from Texas, became one of the most vocal critics of President James Buchanan's order to send the United States Army to the Territory of Utah to quell a supposed insurrection. A Paiute Indian named Wovoka introduced a dance (which became known as the Ghost Dance) among the Indian tribes. Brigham Young's daughters were typical teenagers. Salt Lake City's Rio Grande Depot became haunted. The first Poet Laurette of California was the niece of the Prophet Joseph Smith.
Ardeth G. Kapp, Author of Eyes to See: Recognizing the Lessons in Our Lives and Better Than You Think You Are, hailed Marauders, Misfits and Mormons as a "…very interesting, informative collection of truly fascinating accounts, validated with details that arouse emotions of every kind. Impressive examples of endurance, determination, conflict, all supported with real moments in experiences that invite very thoughtful reflection of the past, the present and the future."
After the author, George Hubbard, and his wife were baptized members of The Church of Jesus Christ of Latter-day Saints in 1951, he developed a two-prong insatiable curiosity to know more about the Church. Through the scriptures and prayerful contemplation, he studied their theology. And through stories he studied their marvelous culture.
"My intent for this volume is to present a selection of my favorite stories that will give an enjoyable glimpse into that special culture that we frequently call "Mormonism." The stories are selected for their human interest quality. They are true stories. They are well documented, but many come from sources not usually found in the libraries of most LDS families. Therefore it is expected that most readers will be encountering many of these stories for the first time."
MARAUDERS, MISFITS AND MORMONS has been written in such a way that will engage readers of all ages. Dan Case, Editor of Writing for DOLLARS! and retired book publisher said, "George Hubbard is foremost, an excellent writer of historical vignettes. These little known bits of Utah history will delight all."
A native Texan who was born and raised on the campus of an all girl's college now called Texas Woman's University, George received his public education in Denton, Texas, then earned degrees at The University of Texas, Stanford University, and the University of North Texas.
George Underwood Hubbard spent his life as an educator in the fields of computer science and mathematics. After completing his tour of duty in the United States Army during the Korean War, George taught junior high school mathematics briefly before being recruited by corporate America at the dawn of the computer age. IBM lured him away from Lockheed, but after 32 years teaching and training both IBM employees and clients, he retired to focus on his true passions – historical writing and academia. He retired from Texas Woman's University where he taught statistics.
George is the author of numerous magazine and journal articles and the following books:
Computer-Assisted Data Base Design
IMS (DL/1) Data Base Organization and Performance
The Humor and Drama of Early Texas
Which End of A Buffalo Gets Up First?
The Last Man to Die by Creek Law
Images of America Krum
When the Saints Came Marching In
Fight On! World War 2 and Cold War Experiences of Lt. Commander John R. "Jack" Hubbard, USNR
George lives in Texas.
Amazon ranked Marauders, Misfits and Mormons: True Stories of Early Utah as its # 1 New Release* in Turn of the 19th Century U.S. History. The book is available in both print and e-book formats. Both print and e-books can be purchased from Amazon, other online stores, and from ehubbard@punaluudata.com. Journalistic review copies are available upon request. For more information about the book contact Elizabeth Hubbard at ehubbard@punaluudata.com or via text at 940-297-9347.
History, Paperback Original, $9.99, 113 pages, ISBN: 978-1-7358338-3-5
END