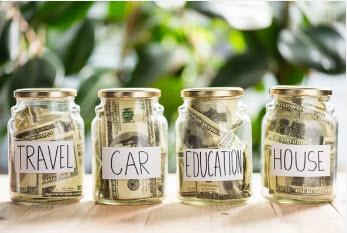 One of the biggest challenges you will face is differentiating needs and wants. Even within the four basic survival needs of food, shelter, clothing, and transportation the question must again be asked: "Is this a need or a want?" Take shelter as an example. Do you need a 2,000 square foot home or would a 1,500 square foot home satisfy your needs? Do you need to a home that costs $325,000 or would a home that costs and $250,000 satisfy your needs?
There is an old phrase, "house rich but cash poor". Do you use a credit card to purchase basic food, pay utility bills, or purchase basic transportation items (i.e., gas or bus pass) because you do not have sufficient funds in your bank account to pay cash for these items? (Use of a debit card is the same as using cash.)
Have you been charged overdraft fees during the past six months due to insufficient funds in your bank account to cover debit card and payment app transactions or checks written?
The answers to these questions can provide early warning signs of financial distress. When debt instruments, such as a credit card, are used to purchase basic needs because you do not have enough cash with which to purchase those items, you need to ask yourself a very difficult question each time you make any purchase: "Is this item I am purchasing a need or a want?"
Put things into perspective by taking a few minutes to make a written list of your needs and wants. Include as many members of your family as possible. Allowing family members to provide input right from the beginning not only teaches them critical thinking, but enables them to become vested in the process of becoming financially free.
| | |
| --- | --- |
| NEED | WANT |
| New Car | 3D Gaming System |
| 3 month emergency fund | Disneyworld Vacation |
| School Supplies | In-ground sprinkler system |
| Water Heater | Rain Gutters |
| Basketball shoes | NFL channels |
| Pay off credit card | Etc. |
| Etc. | |
If you have debts, those should also be included in your spending plan priorities. Debts must be paid.
For people of faith, payment of tithes should be included in the need column. You will have to decide whether or not you include offerings in the needs column or you put it in the want column.
We also live under federal, state, and local governments that set laws which must be obeyed. For example, the law requires vehicle owners to carry insurance. If one owns a vehicle, insurance then becomes a need.
Immediately following the basic needs for survival mentioned above, are the needs that provide safety and security. Adequate insurances are the easiest way of ensuring the safety and security of you and your family. Preparation for shortages of goods and food such as happened during the coronavirus pandemic shut downs is something that people of faith would list as a need so that they can provide for their family's safety and security. Reflect upon your own experiences when the shutdowns first occurred. Did you have enough food, toilet paper, and other household supplied in your pantry so you did not panic when you couldn't go to the grocery store 24/7/365?
Unexpected expenses have the potential to put you in a financial rut. Having cash on hand to cover day-to-day expenses and monthly bills is one thing, but how do you pay if the floor falls out from under you – literally?
In order to prepare for any unexpected expense, you need to build up an emergency fund of cash. In the case of home maintenance, a good rule of thumb is to set aside anywhere from 1% to 3% of your home's purchase price to cover improvements, upkeep, and repairs in a given calendar year. If the purchase price of your home was $250,000, you should have an emergency fund for home improvement and repair of $2,500 to $7,500.
While you're building up that cash reserve, home owners should consider including a few additional items in their list of needs. Maintaining your home on an on-going basis is a need. While money spent on small repairs will take away from your emergency fund in the short term, it'll also mean fewer surprises later. Plus, some things – like swapping in a new furnace filter – can be done without the help of a professional.
Monitor your home's systems, such as heating and cooling. Major appliances, plumbing fixtures, and your home's electricity also fall under this category. By keeping track of when old devices will likely need to be replaced, you'll experience less anxiety – and avoid the collateral damage you may face if they fail.
All families should have adequate medical insurance, and homeowner's or renter's insurance. If you have any motorized transportation, you should have vehicle insurance. Life insurance is important if your family is dependent upon your income to take care of their daily subsistence. Disability insurance and long-term care insurance become increasingly important as you age.
You are the only one who can define what the term "adequate insurance" means for your family. As you evaluate whether or not you have "adequate insurance" and have budgeted correctly for "adequate insurance", you should realistically access whether or not you have budgeted for and can easily pay all deductibles and items not covered by your insurance policies should the need ever arise. If you have a deductible of $1,000, you should keep $1,000 cash in a separate account so you don't have to go into debt to pay your deductible. When it comes to healthcare insurance, your deductible – or co-pay – could easily be thousands of dollars.
A minister spent a great deal of time counseling with members of his congregation who were having financial problems. His greatest challenge was getting people to recognize and accept the difference between necessities and wants. He said it was not uncommon for families not to have enough money for groceries but to be spending $160+ a month for television cable and streaming services and $340 a month for cellular telephones and service.
Contracts required by providers like cable or satellite television and wireless telephone companies have fees attached if the contract is not carried out to the end of the contract's term. These fees are usually tied to the cost of the equipment/hardware the consumer selected. However, some providers will lower monthly rates if you threaten to leave them for a less expensive provider or cancel service all together.
Advertisers and social pressure add to the difficulty in distinguishing between needs and wants. This is especially true with teenagers and young adults when it comes to their mobile device. Is a top-of-the-line smart phone with the latest camera functions a necessity?
This same minister said it was also not uncommon for families to turn to the church for assistance paying medical bills because they did not have adequate medical insurance nor sufficient savings to pay their deductibles and co-pays. The members requesting assistance often became belligerent when he told them to come back if they still couldn't pay all of their medical bills after selling their boats and ATVs.
Writing a list of needs and wants on a piece of paper requires thought. Thinking before spending may be a new experience for your family. Start with something everyone in your household can relate to – grocery shopping. The following form may help you get started. (The assumptions are that you created a menu for the week and you checked out the stores' weekly specials.)
Destination

Need

Want

Walmart

Milk

Eggs

Potatoes

Baby carrots

Light bulbs

Toilet paper

Bread

Onion

Ground beef

Applesauce

Chicken

Rice-a-Roni

Dog food

Potato chips

Oreos

Cinnamon rolls

Pickles

Gum

Snack cakes

Ice cream

Popcorn

Target

Diapers

Baby wipes

Yogurt

Laundry soap

Lettuce

Tomato

Soda

Tortilla chips

Salsa

Guacamole

Sleepers

Favorite Pizza

Extra large supreme

Wings
Ranking of Needs and Wants
Very few people have so much money that they can purchase what they want, when they want without regard to cost or other expenditures. Therefore, it helps to list your needs and wants in order of importance to you and/or your family. Yes this takes time, but your financial freedom is worth the effort.
Using our grocery store example, let's say that all of the needs are of equal importance, so we're leaving them as they are. Our wants are just that. Things we want but don't need. We prioritized the wants.
Destination

Need

Want

Walmart

Milk

Eggs

Potatoes

Baby carrots

Light bulbs

Toilet paper

Bread

Onion

Ground beef

Applesauce

Chicken

Rice-a-Roni

Dog food

Ice cream

Pickles

Oreos

Cinnamon rolls

Potato chips

Gum

Snack cakes

Popcorn

Target

Diapers

Baby wipes

Yogurt

Laundry soap

Lettuce

Tomato

Tortilla chips

Salsa

Guacamole

Sleepers

Soda

Favorite Pizza

Extra large supreme

Wings
The items in the needs column get purchased first. So much pricing data is now available online from retailers that you should be able to know the cost of each item on your list before you enter the store. If you have enough money remaining in your food budget the items in the wants column can be purchased. If the cost of the wants listed exceeds your spending plan for the week, you have already prioritized them making the decision process easier.
Take this exercise to the next level by prioritizing a more generalized list of needs and wants. As you repeat this exercise in all areas of your spending, you will be surprised at how much money you are actually spending on things you want but don't need.