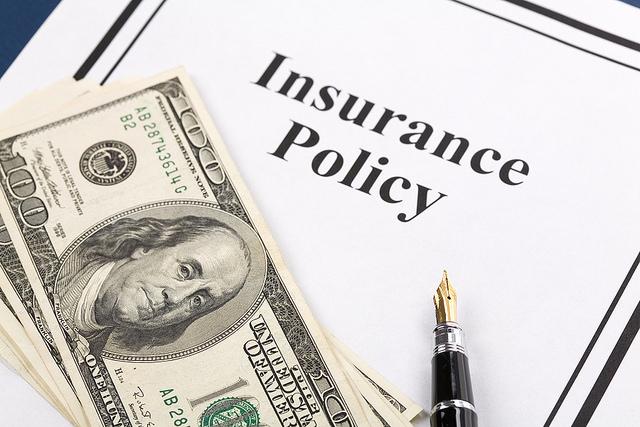 Disclosure: I am not now, nor have I ever been associated with the insurance industry. Everything in this blog is information I use to educate myself and those whom I teach.
What exactly is insurance? For the purposes of this discussion, insurance is a practice or arrangement by which a company or government agency provides a guarantee of compensation for specified loss, damage, illness, or death in return for payment of a premium. There seven (7) basic types of insurance:
Life Insurance or Personal Insurance

Property Insurance

Marine Insurance

Fire Insurance

Liability Insurance

Guarantee Insurance

Social Insurance
The basic philosophy (economics) behind insurance is that a group of people will put a set amount of money into a pot for a specific purpose. Let's use fire as an example. If a member of that group suffers a loss as a result of a fire, the loss will be fully or partially restored from the available funds in the pot. Each pot will have its own set of rules governing who can contribute to the pot, how much must be contributed, and when the funds in the pot can be used.
The first insurance company in the United States was organized by Benjamin Franklin in 1752. Since then thousands of insurance companies have come and gone. Most insurances are elective, but some are required by law. An example is that in order to legally own an automobile in most states, you are required by law to have a policy for that state's minimum about of automobile insurance.
In addition to that required by law, insurance should cover those things that would cause you financial hardship if they are damaged or destroyed. It is a necessary and valuable financial service. After you take care of your basic needs of food, clothing, shelter and transportation, next consider your insurance needs. In you budgeting and family spending plans, insurance protection should come before investing or putting money in a retirement account.
Insurance coverage you may need:
Health (hospital, doctor, dental, vision, prescription, etc.)

Homeowners or renters

Automobile

Disability (short term and long term)

Life

Liability

Long Term Care
Insurance coverage you may not need but may want:
Mortgage life insurance

Accident insurance                      

Insurance on outstanding credit card balances

Travel/Flight insurance

Cancer/Catastrophic  insurance

Pet Insurance

Computer/Valuables Insurance
Before buying any insurance, be sure you understand what each type of insurance covers and what they do not cover. Purchasing insurance is extremely complicated because there are no standard baselines. Terms and definitions vary by company. Required coverage can vary by state. Even when the Affordable Care Act (Obamacare) became law, there were tons of loopholes and exemptions. As of the date of this blog, the healthcare mandate is not being enforced. As a result there are still millions of people in the U.S. who do not have any type of health care insurance.
Insurance Is Not Cheap!
But neither is the cost of repairing lost or damaged bodies or property. Consider the following:
After being rushed to the Emergency Room by ambulance, Chris was admitted to the Intensive Care Unit (ICU) suffering from blood clots in his lungs and legs. After five (5) days in ICU, Chris was transferred to the acute care ward where doctors continued treating his blood clots in an effort to save his leg. Ten (10) days later, after the amputation of the lower part of his right leg, Chris was transferred to a rehabilitation hospital.
The bills for the ambulance, emergency room, ICU, acute care, surgery, lab work, doctors and other attendants totaled $293,718. Chris will be in a rehabilitation hospital for at least a month at an estimated cost of another $200,000. The estimated cost does not include a prosthesis or ongoing physical therapy and medication.
Chris chose not to purchase any healthcare insurance claiming he could not afford it. However he has been able to afford the costs of recreational drugs for himself, sports leagues and camps for his four children, the latest in console gaming equipment, cell phones, tablets, and other electronics for himself, his wife, and their children, the care and feeding of 3 dogs, 2 cats, and 2 rabbits, and dinner menus featuring sushi, steak, and shrimp.
Health insurance is not the only insurance coverage Chris has chosen not to purchase. Chris does not have renter's insurance. Even though he lives outside of New Orleans, he is of the opinion that FEMA and his landlord will cover any losses his family may incur should another major hurricane hit New Orleans.
The Insurance Information Institute (www.iii.org) predicts that the 2021 hurricane season will again be higher than average along the Atlantic and Gulf Coasts. They are predicting 8 hurricanes, 4 of which will be Category 3 or greater ( https://resilience.iii.org/resilience-blog/hurricanes/above-average-2021-atlantic-hurricane-season-predicted/).
Most renter's insurance policies do cover wind damage, but some companies in coastal areas affected by hurricanes exclude this from standard coverage. 
One policy may cover wind damage caused by hurricanes, and another may require you to purchase an additional rider or hurricane renters insurance.
In states where a natural disaster has been declared by the president, the uninsured or under-insured might receive federal aid, but that is capped at just over $30,000, and a typical payment is likely to be much less. For more information about renter's insurance, see https://www.trustedchoice.com/renters-insurance/coverage-types/catastrophe-renters.
Back to our example of Chris.
Chris applied for Medicaid. He thought he would automatically be approved since he had not been working for the past year. Chris thought all of his medical related expenses would be 100% covered. Because Chris lived in a community property state and his wife worked and had been supporting the family solely on her earnings, Chris' application for Medicaid was denied.
Whether it's FEMA, Medicaid, Social Security Insurance, or unemployment insurance, don't assume you will automatically qualify. Like non-governmental policies, contributions are expected and there are rules governing who is eligible to receive funds, when, how much, and for how long.
If you don't know exactly what you're doing, get a second opinion from someone other than the insurance agent or salesman. Consult others who know and understand these types of insurance.
Insurance policies and the people that sell them appeal to your fears. They usually are overpriced for the coverage you receive. The same coverage may be in both your basic life and disability policies. If you've set these up to cover what you can't afford to lose, there's no need to do it again. Before you buy any insurance coverage make sure you shop around and compare prices. Rates may vary widely between insurance agents and companies. Start by asking yourself the following questions:
How much car insurance do I need?

There are specific state insurance requirements. Your insurance agent will know what is required in your state. You may want more than the minimum insurance required. Talk with your agent about what is appropriate for you in your area and what the additional coverage will cost.
Do I need Auto Gap insurance

The difference between the actual fair market value of your auto, which is usually what insurance will pay if it "totaled" and the loan amount you owe on the car may be substantially different. You may need insurance to cover this difference if you are "upside down" or "underwater" on the car.
How much insurance coverage should I buy for my house?

In selecting an appropriate amount of coverage, be sure to avoid the most common consumer mistake - insuring your home for what it costs to sell (the market value), rather than what it costs to replace. Homeowner policies are designed to cover the cost of reconstructing your home should it ever be destroyed. Therefore, you should select an amount of insurance that represents the replacement value of your home. Look for a company that assists you in the valuation of your home. Additionally, look for a company that provides a payment basis called "extended replacement cost." This payment basis helps you rebuild your home even if it exceeds the amount of insurance on your policy.
I rent, do I need insurance?

If all your clothes, the appliances you own, your TV, stereo, jewelry and computer were destroyed in a fire, could you replace them, immediately, out of pocket without going into debt? If you said no, you need renters insurance. You may be surprised to learn that renters insurance is not that expensive. The only thing you're insuring is the contents of your apartment or house. It's certainly cheaper than replacing all your possessions after a disaster. Renters insurance provides the security of knowing that if you lost everything today, you wouldn't be forced to start from scratch. Renters insurance can even cover you for personal possessions that don't happen to be in the apartment or house at the time of the loss, for example, stolen luggage while on a vacation. You can't always count on part of your landlord's policy to cover your possessions.
Shopping for Insurance on the Internet
If you shop for insurance on the Internet, never give out personal information like name, address, telephone, and especially, Social Security number. If you do, insurance agents may call or contact you. If you give out your Social Security number, you can expect a check of your credit. The rates you can expect to pay for insurance are determined by a number of factors including your credit report. (Multiple inquiries on your credit history can hurt your credit rating. You risk identity theft when you give out your Social Security number.) There are many sites that provide information-only quotes based on age, sex, health, and medical information, or car and home details, without asking you to identify yourself.
Check out the company before you purchase a policy. Lower premiums may sound great for your budget, but if the company doesn't pay well for claims, this can be worse. Each state has a list of registered insurance companies licensed to operate in that state. States also maintain lists of complaints consumers have filed against insurance companies. I've list the URLs for a few states.
Arizona: https://insurance.az.gov/license-search
California: http://www.insurance.ca.gov/01-consumers/120-company/01-coprof/
Colorado: https://doi.colorado.gov/for-consumers/consumer-protection
Florida: https://www.stateofflorida.com/insurance-guide/
Georgia: https://oci.georgia.gov/company-search
Illinois: https://insurance.illinois.gov/applications/RegEntPortal/
Maryland https://insurance.maryland.gov/Consumer/Pages/CompanySearchInstructions.aspx
New Jersey: https://www.nj.gov/dobi/division_insurance/insurerlists.htm
New York: https://www.dfs.ny.gov/apps_and_licensing/insurance_companies
Pennsylvania: https://www.insurance.state.pa.us/dsf/gfsearch.html
Texas: https://www.tdi.texas.gov/consumer/company-profiles-and-agents-for-service-of-process.html
Utah: https://insurance.utah.gov/licensee
Virginia: https://scc.virginia.gov/boi/ConsumerInquiry/
Washington: https://www.insurance.wa.gov/search-company
Click on Company Profiles for information on an insurance company's license status in that state, its financial status, and compliance history.
Many insurance companies will give you a great deal on premiums if you buy multiple policies from them (life, health and auto). Ask for multiple policy discounts and compare quotes of several companies. Some states, such as Texas, offer insurance to uninsurable property owners.
Texas FAIR Plan Association
The Texas FAIR Plan Association provides residential property insurance to qualified consumers who are having difficulty obtaining coverage from licensed insurance companies. To be eligible for coverage:
You must have been declined insurance by at least two licensed insurance companies actually writing residential property insurance in Texas, and

Not received a valid offer of comparable insurance from a company licensed in Texas.
On the web: www.texasfairplan.org
Texas Department of Insurance (TDI) Toll free: 1-800-979-6440
Texas Department of Insurance (TDI)
- Offers a variety of insurance-related publications and services
- Publications are available in alternate languages and formats and on the website. For printed copies of free consumer publications, call the 24-hour Publications Order Line Toll free: 1-800-599-SHOP (7467)
For answers to general insurance questions call the Consumer Help Line between 8 a.m. and 5 p.m., Central time, Monday-Friday at 1-800-252-3439
Insurance related complaints can be filed with TDI several ways:
1. At the website at www.tdi.state.tx.us/consumer/complfrm.html
2. By e-mail at Consumer Protection
3. By fax at 512-475-1771
4. By mail:      Texas Department of Insurance
Consumer Protection (111-1A)
P.O. Box 149091
Austin, TX 78714-9091
Insurance Agents
With Internet resources at your disposal, you can educate yourself to avoid shady sales practices and select an agent or company that offers real value. It comes down to personal preference. Most insurance agents earn commissions only. Some, such as those who work for USAA, are salaried.
Term life insurance is cheap and simple enough that most people can make an educated purchase, start to finish, on the internet or by phone from a direct insurance provider. On the other hand, long-term care insurance is about as complicated, and expensive as it gets. Even after extensive online research, many people will still benefit from the services of an independent financial planner, particularly one with experience in long-term care issues.
Auto, home, renter's, and disability insurance fall in the middle. They aren't all that complicated, but they are much more likely to lead to a claim than life insurance. When it comes to making a property claim, an effective local agent can be worth their weight in gold. Also, with liability and medical claims, procedures can be very tricky and decisions are rarely clear-cut. A proactive agent can be an invaluable guide. Of course, it always depends on the agent, the circumstances, and to some extent, the way the company handles claims.
In addition to the traditional insurance agent, there are a few other options. An independent insurance agent represents a number of insurance companies and may more objectively weigh pluses and minuses across many companies and types of insurance.
A good financial planner can build insurance into your overall financial plan, should you or your situation call for a professional. The key here, again, is independence. Work with a fee-only financial planner. Many insurance salespeople may represent themselves as financial planners and try to help you with financial and insurance decisions.
A good agent can also help you with an annual insurance review. As your life situation changes, so do your insurance needs. Probably the simplest example is life insurance. The bottom line is that most people need less life insurance every year, as they build savings and approach retirement. On the other side of the coin, most people don't need any life insurance until the baby arrives. You might want to drop collision and comprehensive insurance when your car is paid off and you have the equivalent of the fair market value in a savings account.
Other Resources for Consumer Insurance Information
Consumer Reports magazine
The Better Business Bureau site is a good place to check for complaints about specific local agencies.
A.M. Best (the industry standard for rating the financial health of insurance companies. There is a charge for some of the more-detailed site content, but basic company ratings are free.
Insurance Industry Sites on the Internet:
www.Insure.com provides information on whole life (cash value) insurance, vehicle, health, home, and other insurances. It has a quote finder that delivers as many insurance agency contacts as it does quotes.  Its Insurance Company Guide lists all companies selling insurance in your state, by type of insurance, and provides detailed information on each one, including Standard & Poor's financial ratings.
Insurance Company Websites, etc.
Many insurance companies have excellent websites, not only for finding agents and making a purchase, but also for insurance education. For obvious reasons, we can't mention any here, but if you have some favorite insurance providers, check out their sites.
Health and disability insurance
The need for health insurance is not doubted by anyone in America today with the high costs of even basic medical care. Disability insurance is a secondary type of insurance related to health insurance that is desirable in certain self-employed situations and may be for other workers and career fields.
What is Health Insurance?
Health insurance is a type of insurance coverage that typically pays for medical, surgical, hospital, prescription drug and sometimes dental expenses and vision expenses incurred by the insured. Health insurance can reimburse the insured for expenses incurred from illness or injury, or pay the care provider directly.
Why have Health Insurance?
The Patient Protection and Affordable Care Act (aka Obamacare) of 2010 essentially made insurance for medical, surgical, and hospital a federal requirement for all citizens and legal residents of the United States. As part of that law, employers who employ 50 or more full-time (at least 30 hours per week) individuals, must offer the minimum amount of healthcare insurance required by the Act. Individuals who do not have health insurance through their employer are required to obtain it through the "Marketplace" (https://www.healthcare.gov/). The "Individual Mandate" portion of the law currently is not being enforced on a federal level. 
Note: Having healthcare insurance does not guarantee you will receive the medical care you want when you want it or where you want it. Each healthcare provider decides which insurance plans, if any, they will accept. Some providers choose to provide services only to those who pay cash.
The one exception is any hospital that has an emergency department AND accepts payments from Medicare is required to provide treatment to patients who need emergency medical services regardless of the patient's insurance status. The Emergency Medical and Treatment Labor Act (EMTLA) passed by Congress in 1986 explicitly forbids the denial of care to indigent or uninsured patients based on a lack of ability to pay. This law does not apply to ongoing care or preventative medicine.
General Types of Health Insurance Plans
Group and/or individual health insurance for those up to 65 years old

Medicare for those 65 and older

Medicaid for the indigent and those in poverty
Within each of these types there are subtypes. Coverage and costs vary by provider and by state.
How to get Health Insurance?
Each health insurance provider requires an application. Insurance providers are NOT required to approve an individual for the healthcare coverage or at the policy premium requested in the application. There are numerous factors each provider takes into consideration in determining what healthcare coverage they are willing to provide and at what cost. These include, but are not limited to:
Gender

Age

Tobacco, Drug, and Alcohol Use

Prior Medical Expenses

Current Medical Conditions
The exceptions to this are active-duty service members and those age 65 + applying for basic Original Medicare.
For those wanting to apply through the ACA Marketplace, go to www.healthcare.gov.
For those whose employers offer healthcare insurance, contact your Human Resources Department.
Those wishing to use an insurance agent should contact that agent directly.
What is Disability Insurance?
Disability insurance is a secondary type of insurance related to health insurance that is desirable in certain self-employed situations and may be for other workers and career fields. The purpose of disability insurance is to provide you with a portion of your prior/average salary the will help pay for basic living expenses in the event that you are unable to work for an extended period of time due to injury or illness.
There are 3 basic types of disability insurance:
Short term

Long term

Permanent
Both short term and long term disability insurance are frequently offered by employers as part of their overall benefits package. Permanent disability is usually obtained through the Social Security Administration (www.ssa.gov). You should contact an insurance agent you trust to discuss disability insurances coverage and rates if you want to obtain disability insurance outside of your employer.
Life Insurance Needs
If you were to die suddenly, what kind of financial hardship would result? Would there be dependents left without basic support? Would your burial costs impose undue hardship on others? These are important questions to ask and answer and possibly cover with life insurance policies.
Liability Insurance
The most complicated insurance topic is liability insurance. You buy this to protect yourself from others. If your negligence or error should lead to damage of another person's property or, worse, their health, you should be prepared to cover these costs in case you are sued. Such liability coverage usually comes with your car and home or renter's insurance. So-called "umbrella policies" are also available for more general liability.
Coverage amounts are usually based on your net worth and how much of it you can afford to lose. This is particularly important when establishing a long-term business relationship.